What causes Northern Lights and other natural phenomena? Learn everything about exciting light phenomena like polar lights, whose shimmering colors may bring to mind the exclusive flip-flop paint finish on the BMW Concept M8 Gran Coupe. The eye-catching effects enhance the already stunning presence of the concept car, imbuing it with an incomparable aura.
Polar Lights
When lights whirl over the clear winter night sky north of the Arctic Circle, everyone raves about the fascinating spectacle. The polar lights are nature's mystical show and appear when electrically-charged particles are transported over the earth's atmosphere via a solar wind, thus activating a celestial extravaganza of light.
The typical colour of this celestial phenomenon ' also called the Northern Lights ' is a bright green ' which, like the 'Saléve Vert' on the BMW Concept M8 Gran Coupe, can change to a greyish blue. Polar lights also appear in red, violet, white and yellow.
What many people don't know: The Northern Lights can also be admired at the earth's South Pole: the so-called Southern Lights.
Bio-luminescence
What looks like a scene from the movie 'Avatar' is in reality one of nature's wonders. Microscopic algae fluorescently light up the water at night. Biologists call this light phenomenon bioluminescence. It can be observed, for example, on the beach of Mosquito Bay on the Caribbean island of Puerto Rico.
Algae can produce glow through biochemical processes in special organs. But other living beings also have this ability. Fireflies, for example, communicate this way.
In 2017, researchers actually succeeded in using enzymes to transform plants into natural light sources, which could replace conventional lamps in the future.
Polar stratospheric clouds
The world-famous painting 'The Scream' by the Norwegian painter Edvard Munch is said to be inspired by the breath-taking glimmering of the polar stratospheric clouds. The phenomenon ' called 'mother-of-pearl clouds' ' arises from tiny ice crystals in the stratosphere, which are illuminated by the setting sun in the dark night sky. The rare colourful clouds form at temperatures of -78 degrees Celsius and can therefore only be admired near polar regions such as Alaska, Siberia and Norway.
Ice Crystal Halos
What looks to us like a supernatural halo in the sky is the fascinating light phenomenon of the ice crystal halos. Halos are formed by the reflection and refraction of light on tiny floating ice crystals in the air. The mysterious light-circles form in various shapes around the sun and moon and can be admired all over the world at any time of the year.
Fog arch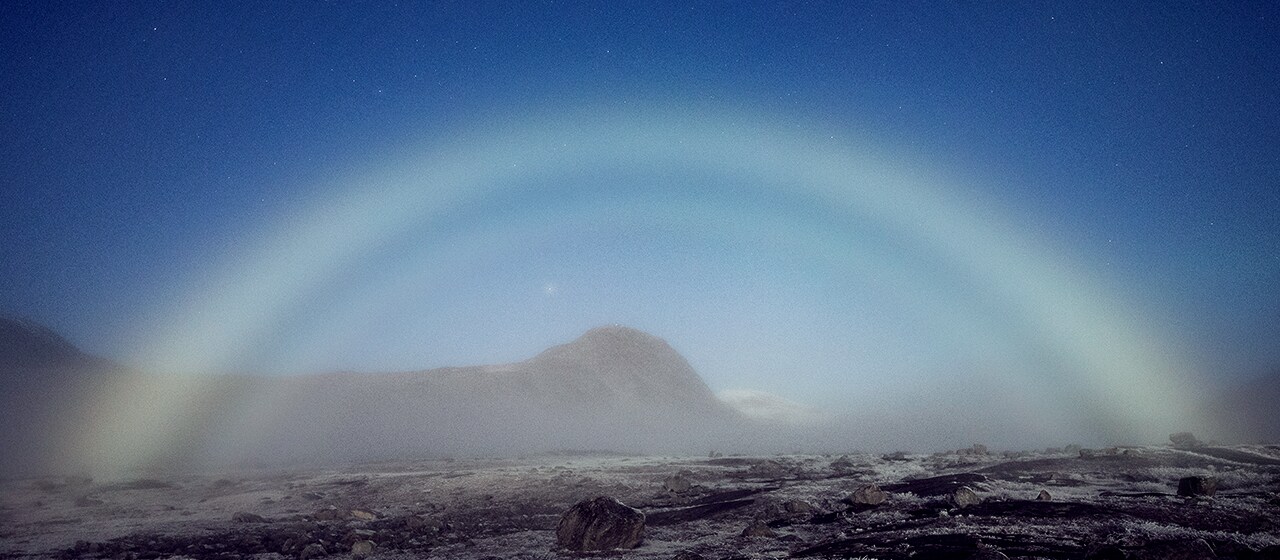 Everyone has seen a colourful rainbow before. Much less common is a fog arch or white rainbow, whose light band is twice as wide. The fog arch is created when a fog wall of fine water droplets is illuminated by sunlight and the light is reflected when entering and leaving.
The fog arch can only be observed when the observer stands in front of the fog wall with his back to the sun. It can be found in a wide variety of places, but it is particularly frequent in peat bogs, mountainous regions or near the sea.
What is flip-flop paint finish?
A flip-flop paint finish is a special-effect varnish that changes its colour depending on the viewing angle and is usually used for car paint. To achieve the optical effect, the normal varnish is mixed with effect pigments. The pigments responsible for the colour change are called interference pigments. Depending on the viewing angle, these interference pigments amplify some wavelengths, while other wavelengths are eliminated by superimposing them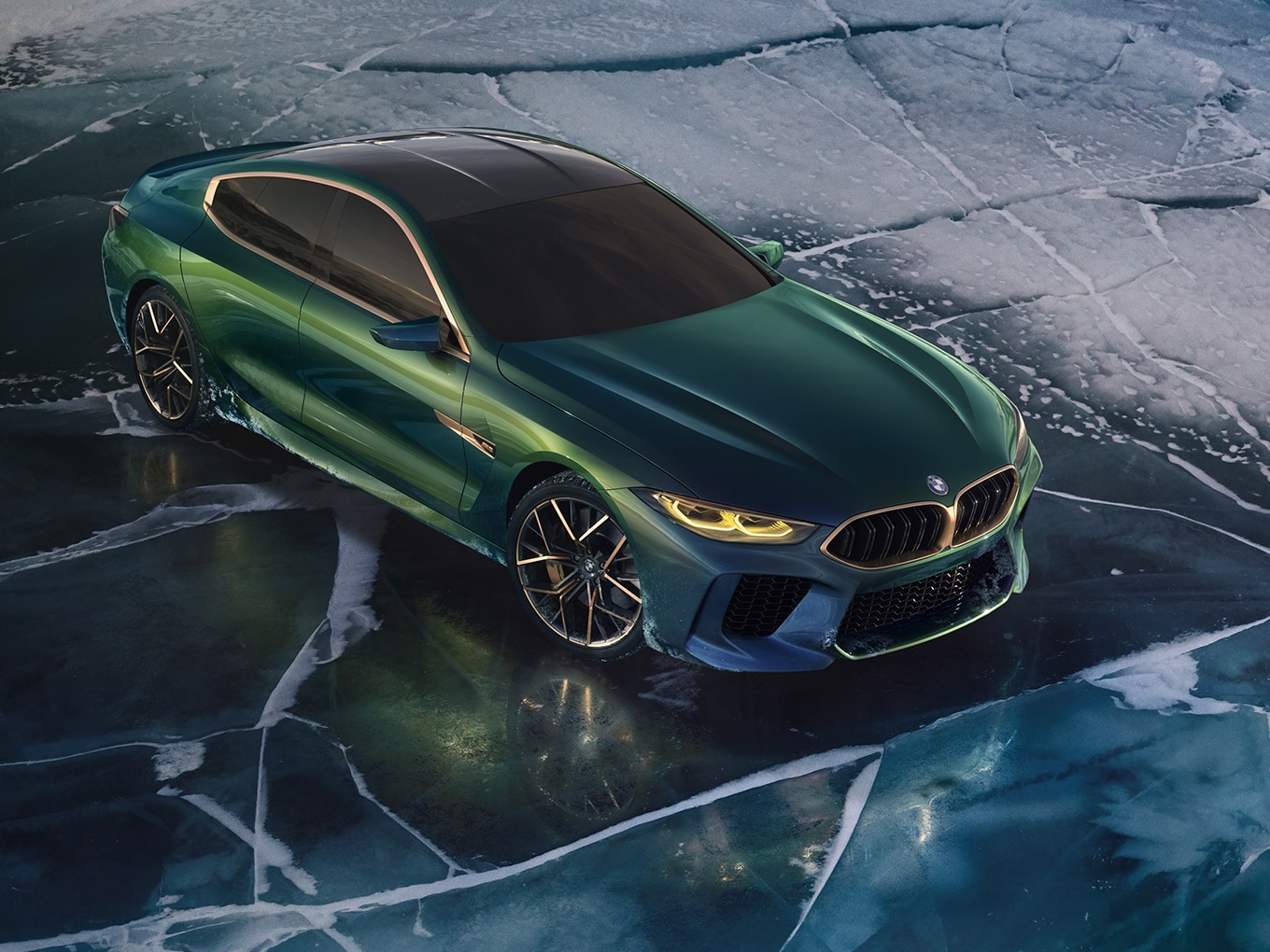 In the BMW Concept M8 Gran Coupe, the luxurious flip-flop paint finish 'Saléve Vert' gives the vehicle an unusual appearance. The colour changes from green to greyish blue depending on the changing light, emphasising the expressive surfaces and contours of the vehicle, as well as underscoring its sporty and elegant look.
By the way: there are also flip-flop paint finishes where not only the colour changes, but also the brightness. In addition to the automotive industry, flip-flop finishes are also used in the printing and cosmetics industry.
THE M8 GRAN COUPE CONCEPT
High class. High performance. High expectations. Behold an unprecedented symbiosis between sophistication and athleticism. Drawing inspiration from the sophisticated 8 Series and the athleticism of the M8 GTE gran tourer, the BMW M8 Gran Coupe Concept unites the disparate worlds of modern luxury and classic motor racing.
AN EXPRESSIVE STATEMENT
SPORTY SILHOUETTE.
Intensely impressive. A glance at its profile leaves no doubt: the BMW M8 Gran Coupe Concept is a performance machine. The long hood, flowing roof-line, and shortened rear create an appearance of high-performance aggression and luxurious aspiration that's simultaneously unique and unmistakable.
Exclusive palette. The supremely striking impression of the BMW M8 Gran Coupe Concept is enhanced by the exclusive graduated paint finish Saléve Vert. Green and blue tones shimmer in an elegant interplay reminiscent of the Northern Lights, creating beautiful colors from every angle.


ASPIRE TO GREATNESS
A TESTAMENT TO AMBITION.
Tuned by the masters of M. From the M twin tailpipes to the M double-bar kidney grille, the BMW M8 Gran Coupe Concept shows off its performance potential. The iconic M design elements, including M gills and M brake calipers, are finished in beautiful matte gold to showcase the unique character of the vehicle
EMOTIONALLY MOVING.
Hug the road. Unique 21′ M light-alloy wheels make an unshakable impression. The star-shaped double spokes feature a two-toned gold and black finish ' a perfect offset to the iridescent colors of the BMW M8 Gran Coupe Concept.
THE BEST OF BOTH WORLDS


THOROUGHBRED GENETICS.
Racing heritage, luxury lineage. The twin traits of classic racing design and high class luxury are the very DNA of the BMW M8 Gran Coupe Concept. Hexagonal headlights evoke the muscular performance of the BMW M8 GTE; graceful, flowing lines from kidney grille to roofline recall the beauty of the BMW 8 Series.
OPPOSITES UNITE.
Challenge conventions. Achieving a new level of luxury and performance means taking risks, breaking norms, and daring to create the next level of the avant garde. With the BMW M8 Gran Coupe Concept, luxury has finally left its comfort zone.


###
Any Questions? Contact Dana Auto Sales, Motor Vehicles Co./ Las Vegas for best New & Used Car, Truck, SUV, Sedan deals.
http://danamotor.com/dmo/?page_id=2
SEO article provided exclusively by Parseed, for Dana Auto Sales: